.
The Horatio Alger Society

Since 1961 "Strive and Succeed" February 10, 2013
"Dash to DeKalb III"
Another Great Convention is Over!
A great time was had May 3-6, 2012 at the Horatio Alger Society's annual convention in beautiful DeKalb, Illinois. It's always a pleasure to attend the convention at Northern Illinois University, home of the largest library collection of Alger material in the world.
The full article about the HAS convention by Bill Gowen has information about speakers, activities, the auction, and more. To read it,
click here
.
Full Books Available to Read in the Archive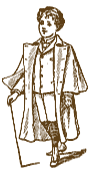 90 Titles Online
As work continues on the
HAS
website's Archive section, more and more of Horatio Alger's works are becoming available to read online for free.
Click here
to read the available titles.
The Full Books section now has links to every Horatio Alger novel currently available to read online. We are still missing 44 titles, which have not yet been converted to a digital format, but you can still visit their pages to find out where to buy a reader copy online. Short Stories and Poetry will be up soon as well, and Alger's essays are becoming available.
All of the above gotten from:
The Horatio Alger Society
...
...
...