Tuesday, July 13, 2010
THE ATTACK: You have to KNOW YOUR ENEMY!! Information EVERY self-respecting Christian should know!!
.
PLEASE CLICK ON THE BOOKLET BELOW TO VIEW!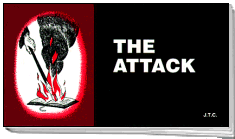 English
Attack, The
©1985 by Jack T. Chick LLC
- See this tract in other languages
- E-mail this tract to a friend.
Here's why Christians say Chick tracts GET READ!